Docloc: Phone Chargers
NEW version available!
The last battery phone-case
"DocLoc" is a 3D Printed,
Fits iPhone, Android, tablets,
Keeps your phones,
toys,
and other gadgets
Provides a charge all day.
A Battery Case for all the Latest
Apple iPhone and Samsung
Galaxy Devices.

DocLoc recharges
via standard USB Type-A
to micro-USB Cable.

You can substitute
the stock stretchy
band
with regular rubber bands,
jelly bracelets,
use more than one
for bigger devices or
even use string and zip-ties!

There's no limit
to how DocLocs can
be attached to things.
3D Printed with
"...polylactic acid (PLA),
a biodegradable
and bioactive
thermoplastic aliphatic
polyester derived from
renewable biomass..."


Read about us on MLive
JACKSON, MI -- Whitney Dufek's phone died while she was in public one day, and she didn't want to plug it into a wall and wait for it to charge. Instead, when she got home, she and her partner, Mark VanSumeren, decided to invent a solution: a 3D-printed universal charging case.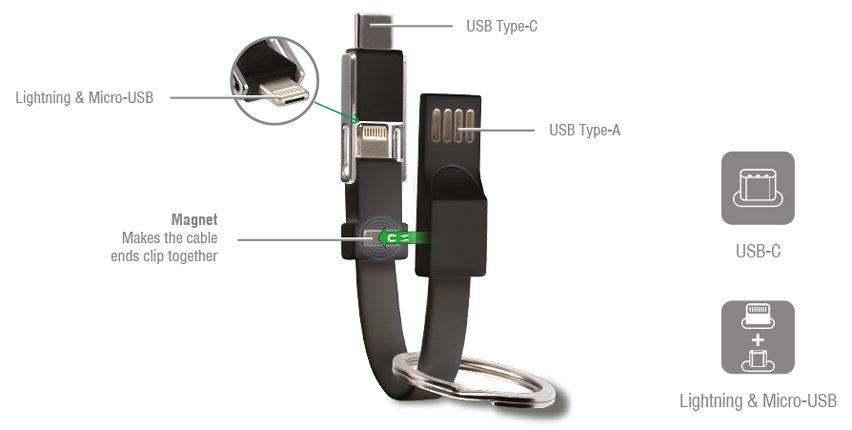 3 in 1 Cable Highlights
-Made of quality assured materials.
-3 in 1 multi charge cable & connector:
Micro USB, Type-C, Lightning.
-Flip over:- Front: Lightning 8 pin / Back: Micro
-Universally compatible for
mobile & electronic devices.
-Best for data transfer & device charging.
-2.0 current 88 copper core.
-Anti-knot noodle-like cable.
-Magnetic stone one both connectors,
can

be detached

and firmly attach again.
-Stylish, slim, compact and convenient.
-
Compatible with IOS & Android devices,
power banks, laptops, etc.